Now that Halloween is right around the corner, I'm going back through our handmade Halloween history with the costume that started it all: Jadon's Naughty Noo Noo costume! What is it? Excellent question and one that almost every single person asked. Andrew and I had no idea that the journey to bringing this costume to life would be the beginning of a family tradition with no end in sight.
When Jadon was 5, he decided he really wanted to be the Naughty Noo Noo. It's the vacuum from Teletubbies and even those that watched Teletubbies were unfamiliar with the character. We looked everywhere for it, but the costume didn't exist. We even tried to convince him to be something else but it was useless. He had his little heart set on it and we set out making his dream come true.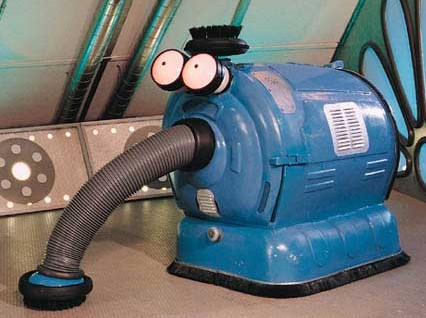 Screenshot from the show.
Our first stop (after double checking every Halloween store we could) was Etsy to find a seller to take our commission. We thought we had it made when we found someone, because it wasn't going to cost a fortune and all we had to do was wait. I swear we felt like we'd won at that point. I don't remember the exact timeline, but the deadline was approaching and we hadn't heard any news from the seller. The details are hazy, but the seller ultimately backed out leaving us exactly where we started. There was no time to find someone else and we didn't know what to do. A late night of crying/laughing over the situation resulted in an inkling of an idea that we ran with.
One of the "better" pictures I took at the time.
Andrew and I weren't huge makers at this point so we had no idea what we were doing. With a cardboard box as the base, we used felt, hot glue, stuffing, and the tube from our vacuum to complete this masterpiece. Andrew even handcut the letters while I added a working power switch. When the costume was complete, we were so proud of what we accomplished and even prouder when Jadon loved it too. (He and Isabelle ended up playing with it for years too.) After creating this costume, Andrew and I felt like parents of the year, but had no idea it would the first of many more costumes to come.
Stay tuned for more handmade Halloween posts!